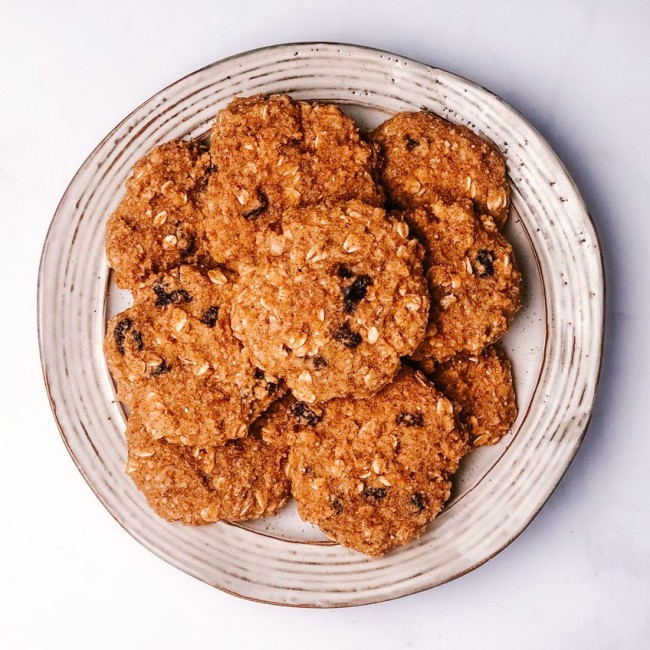 These cookies are oil-free, dairy-free, egg-free, gluten-free and super yummy! The perfect classic cookie.
Ingredients
1 cup oat or sorghum flour
1 1/2 Tablespoons flax meal
1/4 teaspoon salt
1/3 cup pure maple syrup
1/3 cup nut butter
1/3 cup unsweetened applesauce
2 teaspoons vanilla extract
1/2 Tablespoon blackstrap molasses
1/3 cup rolled oats
1/3 cup raisins
2 Tablespoons chopped walnuts (optional)
Instructions
Preheat oven to 350°F and line a baking sheet with parchment paper. Set aside
In a large mixing bowl, add the flour, flax and salt. Use a whisk and mix until combined.
In a medium-sized bowl, combine the nut butter, applesauce, vanilla, and molasses. Whisk together well.
Combine the contents of the dry ingredients and wet ingredients in the larger bowl and whisk together to achieve a nice thick batter.
Once the batter is mixed well, go ahead and add the oats, raisins, and walnuts (if using); mix until combined. The batter will be a little hard to stir.
Use a tablespoon to plop the cookie batter onto the parchment paper. Continue until you have placed all the batter on the baking sheet.
Slightly flatten the cookies with a fork. The cookies do not spread while baking so the shape you create will be your cookie size and shape.
Place the cookies into the oven at 350°F and bake for approximately 12-15 minutes. 
Remove the cookies from the oven and allow the cookies to firm up for 10 minutes (off the baking sheet). 
Serve warm. Store cookies in an air-tight container to retain moisture.