Heart Healthy Quinoa Salad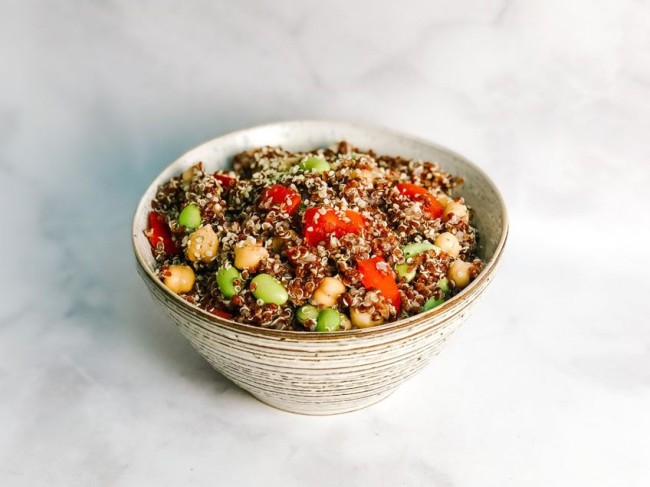 Everyone loves this delicious, filling quinoa salad! It's vegan, gluten-free, will give you steady energy for hours and will keep your heart healthy.
Ingredients
Quinoa
2 cups dried quinoa
3 1/2 cups of water
1 teaspoon garlic powder
Dressing
2 Tablespoons tamari, shoyu, liquid aminos, or coconut aminos
1/4 cup nut butter (peanut, almond, cashew or sunflower seed)
2 Tablespoons pure maple syrup
juice from 1-2 limes
1/2 cup water
pinch of cayenne pepper
Salad
1 can chickpeas, rinsed and drained
1 pack frozen edamame, prepared according to package directions
1 large red bell pepper, cored and diced
10 olives, sliced (optional)
1 Tablespoon hemp seeds
Instructions
Rinse quinoa gently under running water to remove any dust. Bring a small pot to medium heat and lightly toast the quinoa. Add the water and garlic powder, bring to a boil, cover, reduce heat and simmer for 15 minutes, until quinoa is fluffy and liquid is absorbed. Once done, remove cover and let stand for 15 minutes, then fluff with a fork, and allow to cool. (Alternatively, you can cook the quinoa in an Instant Pot or rice cooker).
While quinoa is cooking, combine all the dressing ingredients in a small bowl, taste for seasoning, and set aside.
Place the salad ingredients and cooled quinoa in a large bowl and add the dressing, tossing gently to coat. Season with additional salt, if desired.
Serve room temperature or chilled.