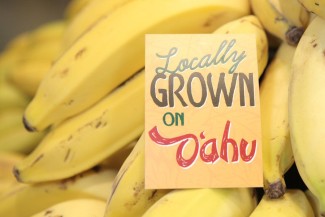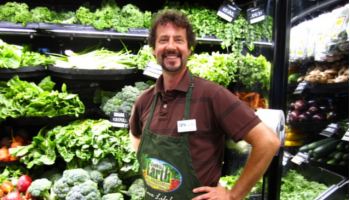 "I love being able to fulfill my passion for produce! I'm having a lot of fun and getting a lot of satisfaction buying from local growers and selling to our awesome appreciative customers." Kevin Clarke, Maui Store Produce Manager
We hope that our produce department inspires you, too. You'll love our truly local, fresh, organic & natural produce!
Local
We buy produce from over 100 Hawaii farmers to bring you the best locally grown produce on the islands. In fact, on any given day, between 40-75 percent of the produce we sell is grown in Hawaii! At Down to Earth you'll find a wide array of locally grown produce, including herbs, lettuce, carrots, and greens, along with other local favorites like non-GMO papaya and an assortment of local bananas.
We proudly carry locally grown apple bananas, avocados, non-GMO papayas, and a wide variety of greens and vegetables. And we carry unique tropical fruits and vegetables in season, such as Pitaya (dragon fruit), star fruit, lychees, breadfruit and lilikoi (passion fruit).
Learn more about our commitment to "local"
Fresh
Buying local helps us to provide you with the freshest, healthiest produce possible. Fresh produce contains the highest possible amount of nutrients and enzymes. Working with local farmers also helps us to bring you the freshest produce year-round. Our local produce is one to two days from harvest to our shelves, and often it's on our shelves the same day. Fresh. Crisp. Just the way you like it!
Learn more about our commitment to "fresh"
Organic
We're proud of our efforts to source produce that is USDA Certified Organic. Organic standards mean that you can be sure produce has been grown without chemical pesticides and herbicides, sewage sludge, ionizing radiation, or genetic engineering.
Learn more about our commitment to "organic" and the different tiers of organic
Natural
"Natural" is a term that has become increasingly misused in the food industry. It might be difficult for consumers to know if something is truly natural. When you shop at Down to Earth, you can trust that you are buying quality, natural produce—no genetically modified organisms (GMOs). We stand by our commitment to provide food as nature intended. Food that is good for you and good for the environment.
Learn more about our commitment to "natural"
Of course, a good produce department begins with a good manager, and Down to Earth has the best! Each of our five stores has an awesome produce manager who brings the finest possible fruits and vegetables into the store.
Always ready to provide personal attention in helping customers to find what they need, our produce managers are a dedicated bunch who truly love what they do. And don't be surprised when they turn up an unusual assortment of local produce you likely won't find anywhere else. You might find sunchokes, celery root, fingerling potatoes, fresh figs, white pineapples, several varieties of mushrooms and a greens selection that will inspire you to eat salads every day!