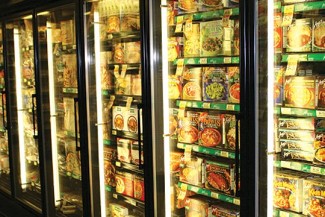 Our Chill and Frozen Foods section carries vegetarian options for many of the standard favorites you see in your local grocery stores, and a few things that are hard to find anywhere:
Prepared meals for breakfast, lunch, and dinner (Gluten-free, yeast-free, wheat-free—in a variety of ethnic cuisines including good old fashioned American, Asian, Italian, Mexican, Indian, etc.)
Vegetarian meats (burgers, hot dogs, sausages, mock chicken and turkey roasts, deli slices, textured vegetable protein, tempeh, tofu, etc.)
Kids meals
Dairy and non-dairy products (milk, cheese, yogurt, soy, coconut, goat milk)
Whole grain breads, pockets and tortillas
Drinks (wide variety of sodas, non-carbonated drinks, teas, Sambazon acai, kombucha, and local fresh-squeezed juices—Govinda and Odwalla brands)
Frozen fruits and veggies
Frozen desserts (dairy and non-dairy ice cream, frozen yogurt, sorbets, hemp milk, ice cream bars and sandwiches, including alternative options)
Got a favorite food you don't see in our store? Maybe a favorite flavor, vegan, wheat-free, soy-free or just plain yummy new option? No problem. We'll order it for you, and we might even make it a regular offering on our shelves. So, don't be shy to ask... You will find a sales team member that is eager and glad to help with your questions. Try us out. You'll see!