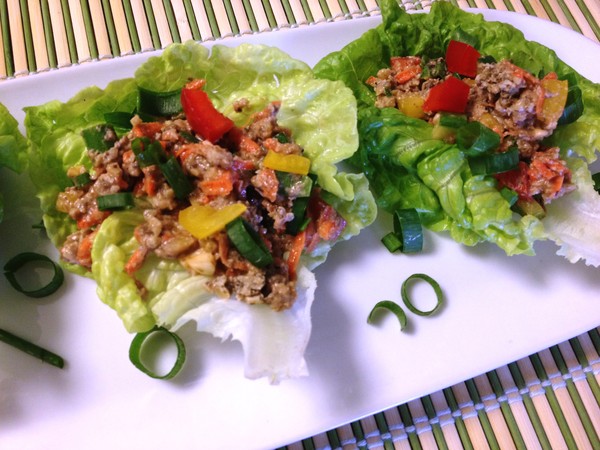 Miso Ginger Lettuce Wraps
These delicious wraps make a great appetizer or a filling entree.
Yield:
8-10 Appetizer Servings, or 2-3 Entree Servings
Updated: Wed, 02/21/2018 - 10:45pm
Ingredients
Filling
2 cups chopped mushrooms
3-4 cups raw walnuts
Dressing
2" piece ginger, peeled and grated
1-2 cloves garlic, minced
¼ cup sugar
¼ cup water
3 Tablespoons white miso paste
2 Tablespoons toasted sesame oil
1 Tablespoon rice vinegar
Vegetables
2-3 carrots, peeled and shredded
½ cup sliced green onions
1 bell pepper, seeded and diced
2 cucumbers, seeded and diced
Lettuce Cups
8-10 whole lettuce leaves, washed and dried
Instructions
To prepare Filling: Combined mushrooms and walnuts in a food processor. Pulse until a coarse and crumbly texture is achieved - stopping as needed to scrape the sides.
In a large bowl, whisk together all Dressing ingredients. Add in Filling and Vegetables and toss together until well combined.
Spoon mixture into center of Lettuce Cups. Serve and enjoy!