Vegan Grilled Cheese Sandwich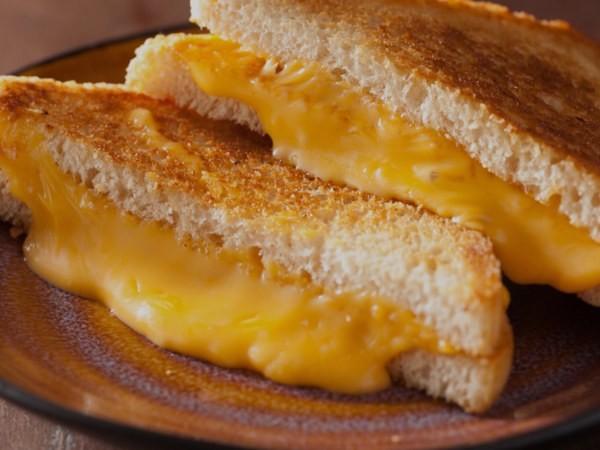 This quick and easy vegan grilled cheese sandwich recipe is so delicious! You can even keep this recipe gluten-free by using gluten-free bread.
Ingredients
2 medium potatoes, peeled and diced
1 medium carrot, peeled and sliced
1 medium onion, peeled and sliced
1/2 cup water or vegetable broth
1/2 cup raw cashews, soaked for a few hours
1/4 cup coconut milk (optional)
3 Tablespoons nutritional yeast
2 Tablespoons arrowroot starch
Juice from a lemon
1/2 teaspoon garlic powder
dash of turmeric
1 teaspoon salt
vegan bread of choice
oil for pan-frying
Instructions
Put potato, carrot and onion into a saucepan and bring to a boil. Cook until potatoes are fork tender, or about 10 minutes.
While your potatoes, carrot, and onion are cooking, place vegetable broth, cashews, coconut milk, nutritional yeast, arrowroot starch, lemon juice, garlic powder, turmeric and salt into your blender. Blend on high until everything is creamy smooth.
When potatoes are fork-tender, drain potatoes, carrot, and onion and place into blender with other ingredients.
Blend everything on high until smooth.
You can use this cheese as is to make your grilled cheese sandwiches, or you can place it in the fridge for a few hours or overnight to cool and thicken up slightly.
Brush two slices of bread on one side with oil. Spread un-oiled side of one slice with a couple of tablespoons of the vegan cheese, then top with the other slice of bread. 
Heat a pan to medium heat with some extra oil. Once hot, add your sandwich and cook for 1-2 minutes, until golden brown. Flip and cook for 1-2 minutes more, then remove from pan. Serve and enjoy!