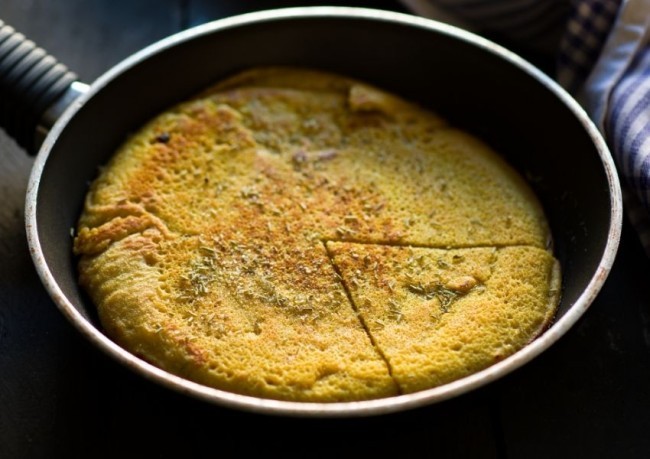 This is a simple and highly customize-able recipe for an epic vegan brunch or just a quick out-the-door breakfast. Store extra batter in the fridge for easy meal prep!
This recipe was adapted from choosingchia.com.
Ingredients
Omelette
1 cup chickpea flour
2 tbsp ground flax seeds
1/2 tsp baking powder
1/2 tsp salt
1/2 tsp turmeric powder
1/2 tsp garlic powder
1/2 tsp onion powder
1 1/2 cups plant-based milk
Filling
1 tbsp olive oil
5 cups kale
1/2 cup peas
1/2 cup onions, chopped
3 garlic cloves, chopped
1/4 cup mushrooms, roughly chopped
Salt & pepper to taste
NOTE - Feel free to get creative with filling ingredients. This is a great "clean-out-the-fridge" recipe!
Instructions
Combine the chickpea flour, ground flax seeds, baking powder, salt, turmeric, garlic powder, onion powder and plant-based milk until smooth. Let this mixture rest while you prepare the filling.
Sautee onions over medium heat until fragrant.
Add kale, garlic, peas and mushrooms and sautee until the kale has wilted.
Season with salt and pepper to taste.
Heat a clean pan and use a measuring cup to pour consistent omelettes. Spread the batter evenly onto the pan and allow to cook for 3-4 minutes or until the bottom is golden brown.
Once batter is golden brown, add the filling on top and gently fold in half.