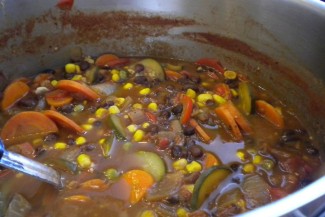 This warming soup is perfect for any season. Lots of veggies and beans make it a filling meal.
Ingredients
2 Tablespoons olive oil
1 cup chopped onion
2 garlic cloves, minced
1½ cups sliced red bell peppers
1 cup sliced zucchini
1 cup corn
½ cup chopped green onion
3 cups vegetable broth
2 cups cooked black beans
1 (28-oz) can crushed tomatoes
1 (4-oz) can chopped green chili peppers (optional)
2 Tablespoons cumin
1 Tablespoon chili powder, garlic powder, and coriander
Salt & pepper to taste
Fresh lime wedges, to garnish
Tortillas
6 corn tortillas sticks
¼ cup vegan margarine, melted
1 Tablespoon garlic powder and chili powder
Instructions
Heat olive oil in a large stockpot over medium low heat. Add onion and garlic and sauté for five minutes.
Add peppers, zucchini, green onion, and corn and toss to coat. Cook for 10 more minutes, until vegetables are soft.
Add broth, beans, tomatoes, chilies and spices. Bring to a low boil, then cover and simmer for 15 minutes.
To make Tortillas: Slice tortillas into one-inch strips. Add to a large bowl. Drizzle with vegan margarine and sprinkle with garlic and chili powder. Toss to coat. Place onto baking sheet and broil for 5-10 minutes, or until browned.
Divide soup into bowls and crumble Tortillas on top.
Garnish with lime wedges and enjoy warm.