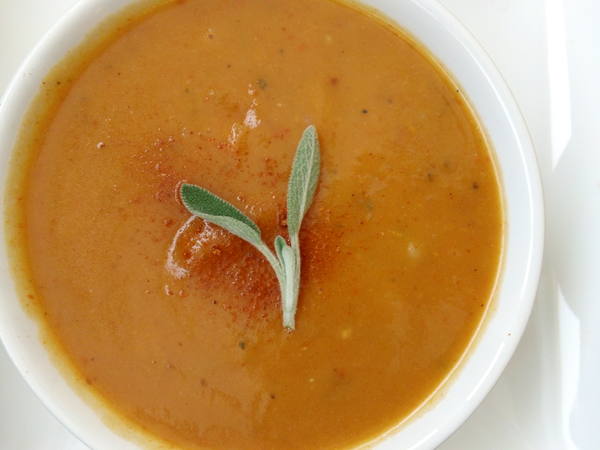 Roasted Red Pepper & Sweet Potato Soup
A creamy, warming soup made with nourishing sweet potatoes and sweet roasted peppers.
Updated: Wed, 02/21/2018 - 10:45pm
Ingredients
3 cups peeled and chopped sweet potatoes
1 cup diced white potato
2 medium red peppers, seeded and diced
½ cup onion, sliced thinly
4 cloves garlic, chopped
2 Tablespoons olive oil
Pinch each salt, pepper, nutmeg, and cayenne pepper
1 teaspoon honey + 1 Tablespoon extra
2 Tablespoons chopped fresh sage (or 1 teaspoon dried sage)
2 cups vegetable broth
¼ cup unsweetened non-dairy milk (more to taste)
Instructions
Add sweet potatoes and potatoes to a large stockpot with enough water to cover and boil for about 10-15 minutes. When fork-tender, drain and set aside.
Preheat oven to 400º. Add red pepper, onions, and garlic to a large bowl. Add in the olive oil, salt, peppers, nutmeg, and 1 teaspoon honey and toss until veggies are coated. Transfer to large baking pan. Bake for 20 minutes.
Remove pan from oven and add remaining honey and sage. Toss again, and bake for another 10 minutes, until the sage is wilted and peppers start to blacken.
Add potato mixture and pepper mixture to food processor and blend until smooth, adding broth until light and creamy. Return to stockpot, add soymilk and stir to combine. Simmer over low heat for 10 minutes to let the flavors meld. Add more salt, pepper, and/or cayenne to taste.
Divide among serving bowls, garnish with a few sage leaves, and enjoy!