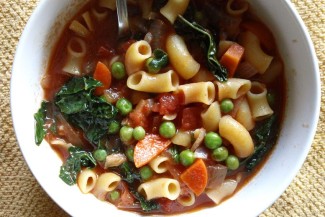 A classic Italian soup that makes an easy weeknight dinner.
Ingredients
¼ cup extra-virgin olive oil
2 cups diced onion
2-4 cloves garlic, minced
6 cups vegetable broth
1 (14-ounce) can crushed tomatoes
1 cup small elbows, macaroni, or spiral
1 cup diced carrot
1 Tablespoon tomato paste
½ teaspoon celery salt
2 cups chopped green kale or spinach
½ cup green peas
¼ cup chopped fresh basil
1 Tablespoon lemon zest
Salt and black pepper, as needed
Instructions
Add olive oil to a large stockpot and warm over medium heat. Add onions and garlic, and cook until soft- about 15 minutes.
Add broth, tomatoes, noodles, and carrots to onions and bring to a boil. Stir in tomato paste and celery salt and cook until noodles soften.
Add kale, peas, basil, and zest when noodles are finished cooking. Stir to combine and wilt greens. Season with salt and pepper.
Divide into serving bowls and serve alongside bread or salads. Enjoy!