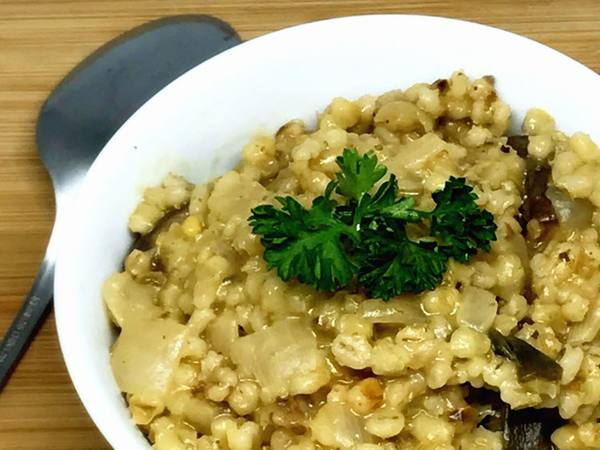 Ginger Barley Stew
Barley stew is soothing and nourishing to the stomach and digestive system and rich in fiber and minerals.
Yield:
Yields: 4-6 Servings
Updated: Mon, 06/18/2018 - 8:20am
Ingredients
¼ cup dried Shiitake mushrooms soaked in 1 cup of water for 1 hour up to overnight
2"-4" piece kombu, soaked in 1 cup of water for 1 hour up to overnight
1-2 teaspoons neutral high-heat oil like canola or safflower
1 cup chopped onion
1 cup dried barley
2 cups vegetable broth
½ teaspoon dried Italian seasoning
1 teaspoon salt + more if desired
1 Tablespoon minced fresh ginger2-3
Tablespoons soy sauce or tamari
Black pepper, to taste
½ cup chopped parsley
 
Instructions
After letting the mushrooms and kombu soak for at least 1 hour, remove fromwater and set aside. Reserve soaking water for later. Pat dry mushrooms andkombu and then thinly slice both ingredients. Set aside.
Heat oil in a stock pot over low heat. Stir in onion and cook for 1-2 minutes; stirin the sliced mushrooms and barley until thoroughly combined.
Add in reserved soaking water, vegetable broth, sliced kombu, Italianseasoning, salt and ginger.
Cover and increase heat; bring to a boil, then simmer until barley is tender,about 45 minutes.
Stir in the soy sauce. Taste stew and season with salt and pepper to taste.Pour stew into serving bowls and garnish with parsley. Enjoy!