Vegan Mac & Cheese, Pulled "Pork" and "Bacon" Wrap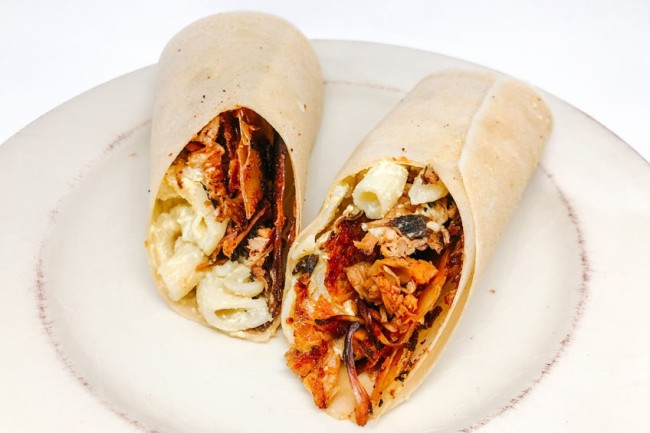 This is a go big or go home type of meal! In this recipe we wrap leftover mac with leftover pulled "pork" and crispy "bacon".
Ingredients
Mac & Cheese
3/4 cups raw cashews, soaked
1/2 cup water
fresh juice of a small lemon
1/4 cup nutritional yeast
dash of turmeric
1/4 teaspoon garlic powder
1 teaspoon salt
6 ounces elbow pasta (can use gluten-free if needed)
Pulled "Pork"
2 x 14 oz cans organic young jackfruit, rinsed, drained and shredded
1 Tablespoon sesame oil
1/4 cup liquid aminos
1/4 cup vegetable broth
1 teaspoon smoked paprika
salt to taste
"Bacon"
6 brown rice paper roll wrappers
2 Tablespoons liquid aminos
2 Tablespoons water plus additional water to dip wrappers
1/2 Tablespoon toasted sesame oil
1/2 Tablespoon pure maple syrup
1/2 Tablespoon onion powder
1 teaspoon garlic powder
smoked paprika or cayenne pepper to taste
Wrap
wraps of choice (can be gluten-free)
Instructions
Preheat oven to 400F.
Combine the oil, aminos, broth, smoked paprika and salt.
Toss jackfruit pieces in sauce until evenly coated.
Bake the jackfruit for 30 minutes, tossing with tongs halfway. Once cooked, set aside. 
Score rice paper roll wrappers with a sharp knife and snap into pieces according to desired size of bacon.
Prepare a baking dish with water filled to halfway.
Whisk together all "bacon" ingredients except wrappers to form marinade.
Take a piece of rice paper wrapper, dip in tray of water, then dip in marinade and lay on lined baking tray. Repeat with a piece that is similar in shape and size and lay on top of first piece. These two pieces stuck together form one bacon strip. Repeat with remaining rice paper pieces, making sure to pair similar shapes and sizes.
Air fry or bake for about 4-5 minutes, watching carefully to ensure bacon is just crisp but not burnt.
Cook pasta according to package instructions. Be careful not to overcook.
While pasta is cooking, add remaining mac & cheese ingredients to blender and blend until very smooth.
When pasta is cooked, drain and return to pot. Stir in cheesy sauce.
Assemble wrap of choice with mac & cheese, pulled "pork", and "bacon" and enjoy!