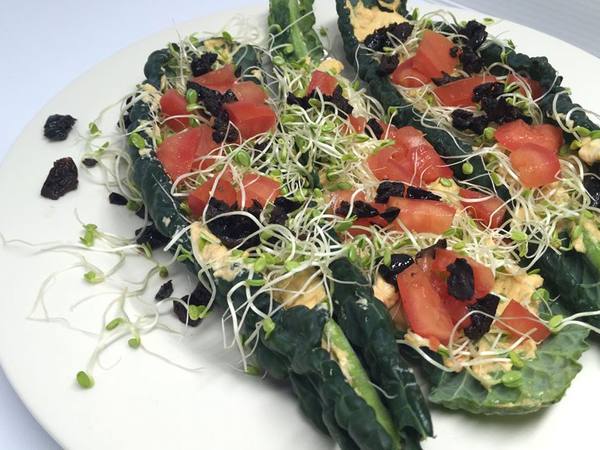 Raw Lacinato Kale Wraps
These delicious wraps are very satisfying and full of flavor. They're perfect to pack for lunch at work.
Updated: Mon, 05/13/2019 - 9:00pm
Ingredients
Red Pepper Cheezy Spread

3 cups cashews, soaked for 4 hours
1 red pepper deseeded, quartered
2 garlic cloves
2 Tablespoons shallots
½ cup nutritional yeast
Salt and pepper to taste
Juice of 1 lemon
3- 4 Tablespoons water + more if needed

Kale Wrap

8 leaves of kale
2 cups clover sprouts
1 cup diced tomatoes
½ cup raw sliced olives
Instructions
Place all Red Pepper Cheezy Spread ingredients into a food processor and blend until smooth and creamy.
Take kale and spread Red Pepper Cheezy Spread inside and top with sprouts, tomatoes, and olives.
Repeat process until all ingredients are used. Serve and enjoy!