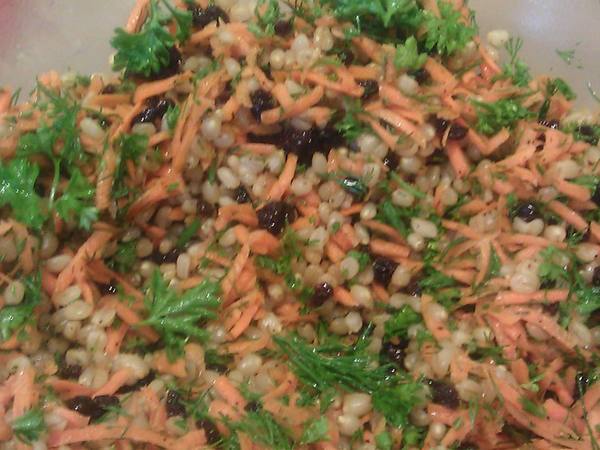 Wheat Berry and Carrot Salad
This recipe makes a huge bowl of salad! Take it to your next picnic or potluck and share the whole-grain goodness! The wheat berries can be soaked and cooked in advance, to cut down on prep time.
Updated: Sun, 06/10/2018 - 7:33am
How to make Wheatberry Carrot Salad Video Transcript
Ingredients
1 cup soft wheat berries, soaked
6 cups water
2 Tablespoons olive oil
2 Tablespoons fresh lemon juice
1 Tablespoon cider vinegar
Sea salt and black pepper to taste
2 cups shredded or chopped carrots
½ cup zante currants or raisins
1 cup finely chopped fresh dill
½ cup finely chopped fresh parsley
Instructions
Soak the wheat berries for at least 2 hours, up to overnight. Drain and rinse.
Bring water to a boil and add soaked wheat berries. Cook until soft and chewy, about 30-45 minutes. Drain in a colander and set aside.
Prepare the dressing: in a large bowl whisk together olive oil, lemon juice, cider vinegar, salt and pepper. Let sit for a few minutes to meld flavors.
Add carrots and toss to coat. Stir in raisins, fresh herbs and cooked wheat berries. Serve immediately or keep in the fridge for up to 3 days. Enjoy!