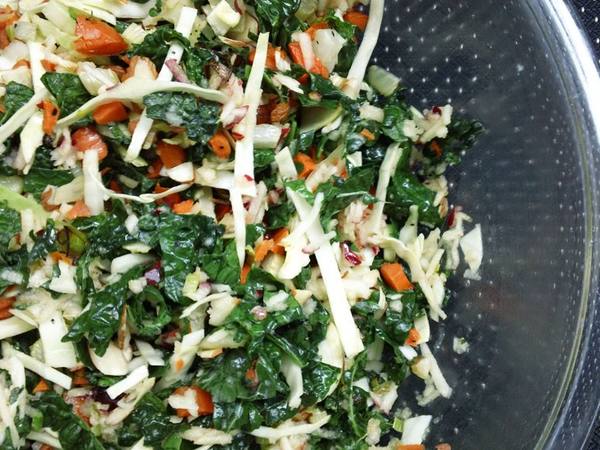 Kale Slaw with Miso-Dijon Dressing
A simple kale salad with an easy dressing: good for lunches and dinner all week long!
Updated: Mon, 05/13/2019 - 8:52pm
Ingredients
1 bunch kale, stems removed and sliced thinly
2 cups shredded red cabbage
2 cups shredded carrots
2 Tablespoons pumpkin seeds
2 Tablespoons sesame seeds
Miso Dijon Dressing
¼ cup olive oil
2 Tablespoons prepared Dijon mustard
2 Tablespoons miso
2 Tablespoons lemon juice + more to taste
Pinch red pepper flakes
Sea salt and black pepper to taste
Instructions
Add kale to a large bowl. Massage gently with your hands to break down kale; it will reduce to about half size and look wilted. Add cabbage, carrots and seeds and toss to combine.
Whisk together all Dressing ingredients in a small bowl.
Pour a few tablespoons of Dressing over salad. Toss well and add more dressing if desired; store any unused dressing in a small jar for a week. Serve salad immediately or refrigerate leftovers for up to a week. Enjoy!