Basic Massaged Kale Salad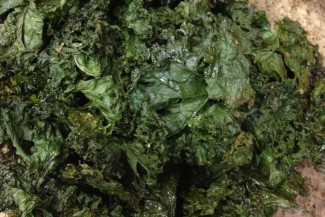 Start with this basic recipe and add vegetables, nuts, seeds, and dressings as you see fit. Kale Salad is perfect alone or with grains, pasta, or on a sandwich
Ingredients
Kale Salad
1 bunch kale, any type
2 Tablespoons olive oil
2 Tablespoons lemon juice
Pinch each salt and black pepper
Optional Salad Mix-ins:
Shredded carrots, cucumbers, sliced red peppers, jicama
Sliced apples, pears, orange pieces
Sunflower, pumpkin, or hempseeds
Chopped walnuts, almonds, pecans
Fresh basil, arugula, dill, or parsley
Instructions
Thoroughly wash kale and shake dry. Remove leaves from stems and tear into bite-sized pieces.
Add kale to a large bowl and massage with your hands until kale looks wilted and 'cooked.' Drain off any excess water.
Toss olive oil, lemon juice, salt and pepper with the kale. Add any optional mix-ins. Serve immediately or keep for up to two days in the fridge. Enjoy!