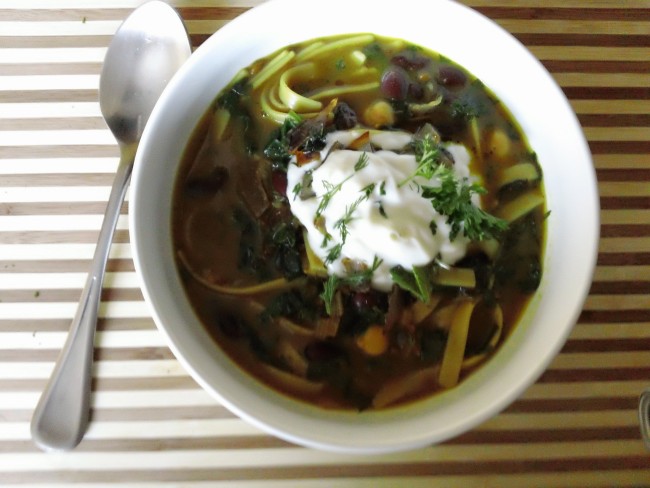 This soup features a variety of herbs, beans and spices for a rich, flavorful meal. This soup is traditionally served for Norooz, the Persian New Year observed during the Spring Equinox.
Ingredients
¼ cup olive oil
2 cups diced onion
½ cup diced celery
8 cups vegetable broth
¼ cup dried lentils
5 cloves garlic, minced
2 Tablespoons nutritional yeast
1 teaspoon each: ground turmeric, celery salt, ground coriander and red chili flakes
6 ounces udon or linguine noodles, torn into thirds
1 (15-ounce can) fava beans, drained and rinsed
1 (15-ounce can) kidney beans, drained and rinsed
1 (15-ounce can) chickpeas, drained and rinsed
4 cups chopped fresh kale
½ cup fresh cilantro, minced
½ cup fresh parsley, minced
¼ cup fresh dill, minced
½ cup fresh mint leaves, chopped
Salt and pepper to taste
Lemon, for garnish
Yogurt, for garnish
Instructions
In a large stockpot, heat olive oil over medium heat. Add onion and celery. Sauté until browned and soft.
Add in broth, lentils, garlic, nutritional yeast, turmeric, and spices. Cover, and simmer on medium heat until lentils are soft.
Add noodles and beans and simmer until noodles are soft. Add kale and fresh herbs and cook for 1 more minute. Season with salt and pepper if necessary.
Divide soup between 6 bowls and add a squeeze of lemon and a dollop of yogurt. Cheers to the New Year!