Spicy Lentils with Local Tomatoes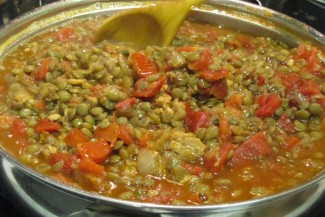 Spicy Lentils with Local Tomatoes Recipe from Down to Earth Organic and Natural
Ingredients
2 cups green lentils
2-3 Tablespoons safflower oil
1½ cups diced onion
1 cup diced tomato
1 jalapeño, de-seeded and diced
2 garlic cloves, finely diced
1 (8-ounce) box spicy tempeh, crumbled
Salt and pepper to taste
1 teaspoon chili powder
Pinch of cayenne
1 teaspoon coriander
1 (15-ounce) can crushed tomatoes
2-3 cups water
1 Tablespoon liquid aminos
1 Tablespoon vegan Worcestershire sauce
1 teaspoon agave nectar
Instructions
Wash lentils and set aside.
Heat oil in a large sauce pan.
Add onions, tomatoes, jalapeños and garlic to pan and cook until onions are translucent.
Add tempeh and let brown.
Add dry seasonings and mix well.
Add remaining ingredients, mix well, cover and let simmer for 45 minutes, until lentils are soft. Periodically stir and check water level. Add water if needed. Serve immediately or refrigerate for up to a week. Enjoy!