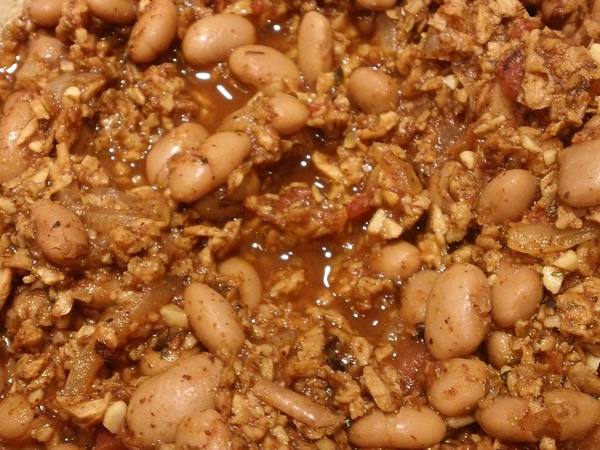 Pinto Bean & Soy Taco Filling
TSP is a dried soy product. It's super easy to use and season however you like. The pinto beans add a bit more protein and fiber.
Updated: Fri, 05/11/2018 - 8:21am
Ingredients
1 cup textured soy protein (TSP)
1 Tablespoon each: dried garlic, oregano, chili powder
1 teaspoon each: cumin, coriander, salt, black pepper
1 teaspoon liquid smoke
1 cup boiling water
2 Tablespoons olive oil
½ cup sliced onion
¾ cup canned crushed fire-roasted tomatoes
1-2 cups cooked pinto beans
Instructions
Mix the TSP, spices and liquid smoke in a large bowl. Mix in 1 cup boiling water. Stir to mix the spices, and soak for 10 minutes.
Heat the olive oil in a large saucepan over medium, and add the onions. Cook until softened, about 10 minutes. Add TSP mixture, tomatoes and beans. Cook on low heat for 10 minutes or until all the liquid is absorbed. Add more seasoning to taste. (Smoked paprika, chilies, or more fresh herbs are delicious additions!).
Let cool and serve in tacos with your favorite toppings. Enjoy!