Macadamia Nut Hummus with Crispy Pitas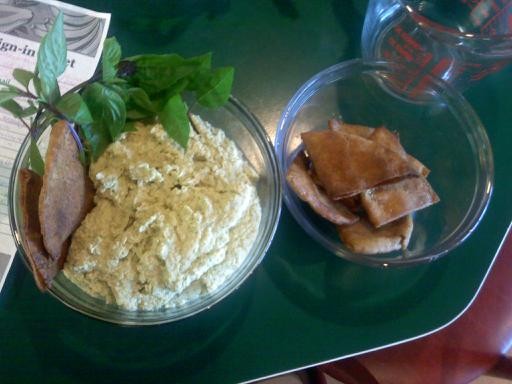 Change up a classic with these different and delicious ingredients.

Ingredients
Macadamia Nut Hummus
½ cup roasted macadamia nuts
2 cups canned garbanzo beans, drained
3 Tablespoons macadamia nut oil
3 Tablespoons lemon juice
3 Tablespoons water
3 cloves garlic, chopped
10 medium basil leaves
Salt and pepper to taste
Crispy Pitas
4 large pita breads
2 teaspoons ground cumin
2 teaspoons ground garlic
2 Tablespoons macadamia nut oil
Instructions
Set oven to broil.
Combine Macadamia Nut Hummus ingredients in a food processor and pulse until pureéd.
Transfer to a serving platter and garnish with a few basil leaves. Set aside.
Cut each pita into 4 wedges.
In a small bowl combine cumin and garlic with the macadamia nut oil.
Brush the oil mixture onto the pita wedges and set on a baking sheet.
Broil pitas until slightly browned, about 3 minutes. Serve with Macadamia Nut Hummus. Enjoy!