Gluten-Free Okinawan Sweet Potato Crunch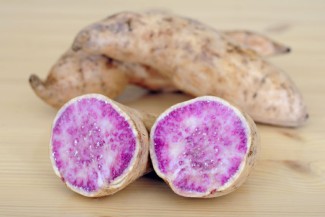 This Okinawan Sweet Potato Crunch is vegan, gluten-free, and refined-sugar-free, but definitely not taste-free! Made with Okinawan sweet potatoes, it's flavored to perfection and sweetened naturally.
Ingredients
Filling
4 Okinawan sweet potatoes
1 cup coconut cream
1 cup water
¼ cup arrowroot
5 dates
Zest of half a lime
Juice of 1 lime
Crunch
8 Medjool dates, pitted and chopped small
1 cup raw walnuts, chopped
1 cup raw almonds, chopped
2 Tablespoons hemp seeds
2 Tablespoons melted coconut oil
1 teaspoon non-alcoholic vanilla extract
Zest of half a lime
½ teaspoon ground ginger
¼ teaspoon unrefined salt
Instructions
Preheat oven to 375°.
Soak 5 dates for filling in 1 cup water.
Peel and cut the Okinawan sweet potato into large pieces for cooking.
Boil sweet potatoes in water for about 45 minutes, or until soft. Okinawan sweet potatoes take longer than regular potatoes to cook, so check that they're very soft.
Meanwhile, start making the crunch by melting the coconut oil.
Mix oil in with the remaining crunch ingredients and toss until well-distributed.
Press most of the crunch into your prepared pan, reserving about half a cup for topping.
Bake the crunch for 5 minutes in the oven, and then allow to cool a little while you prepare the filling.
Once the sweet potatoes are finished boiling, drain and mash them.
Remove soaking dates from water and set the water aside.
Puree dates in blender or food processor.
Add a tablespoon of soaking water to the date puree and continue to blend until the date puree is creamy. Add more soaking water if needed.
Add arrowroot to remaining soaking water and stir until dissolved.
Mix sweet potato mash, coconut cream, date puree, ground ginger, and lime in a pot.
Over medium heat, add the dissolved arrowroot with a whisk and bring to a gentle simmer.
To get the filling as smooth as possible, transfer to a blender or food processor to finish.
Spread the sweet potato mixture over the crunch.
Top with the reserved crunch mixture.
Return to oven and bake for 20 more minutes, until lightly browned and toasted.
Serve and enjoy!!