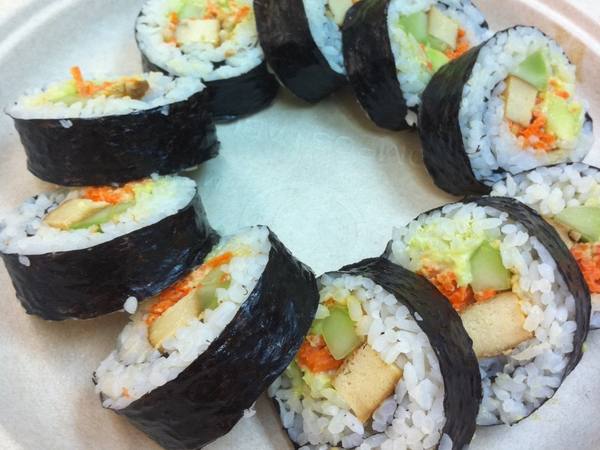 Sushi Rolls
Sushi Roll recipe from Down to Earth Organic and Natural.
Updated: Sat, 10/13/2018 - 7:55am
Ingredients
2 cups sushi rice
4 cups water
4 Tablespoons rice vinegar
2 teaspoons gomasio (sea salt and toasted sesame seeds)
¾ cup soy sauce
3 teaspoons fresh grated ginger
1 (10-ounce) package firm tofu, cut into strips
1 carrot, grated
1 avocado, sliced
6 nori sheets
Instructions
Wash rice in a colander under running water. Place rice and water in a medium saucepan and bring to a boil. Cover the saucepan and turn the heat to very low. Cook for 20 minutes.
Transfer cooked rice to a large bowl and add the vinegar and gomasio.
In a medium bowl, combine soy sauce and ginger. Place tofu strips in sauce and let marinate for 30 minutes.
Spread a sheet of nori and press the rice onto ¾ of the sheet. Place the tofu, carrot and avocado on top.
Roll the sushi and cut into ½'' rounds.
Use leftover soy sauce mixture to drizzle on top of sushi. Enjoy!