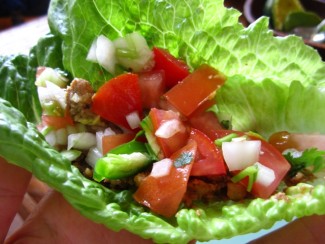 These tacos are medium spicy -- seasonings can be adjusted to taste.
Ingredients
6 Manoa or any local lettuce leaves
2½ cups raw walnuts
1 garlic clove, diced
½ cup sun-dried tomatoes in olive oil, chopped
½ cup chopped black olives
½ cup chopped fresh cilantro
3 Tablespoons diced red onion
Juice of 1 lemon
Juice of 1 lime
1½ teaspoons cumin
1 teaspoon oregano
1 Tablespoon chili powder
Salt and pepper, to taste
Instructions
Wash lettuce leaves and let dry on paper towels while preparing taco filling.
Place walnuts in a food processor and blend until coarsely ground. Transfer to a large mixing bowl.
Mix in remaining ingredients, combining well.
Spread 2-3 Tablespoons of filling on top of each lettuce leaf. Wrap lettuce around filling, serve and enjoy!