Plant-Based Beefy Meatless "Meatloaf"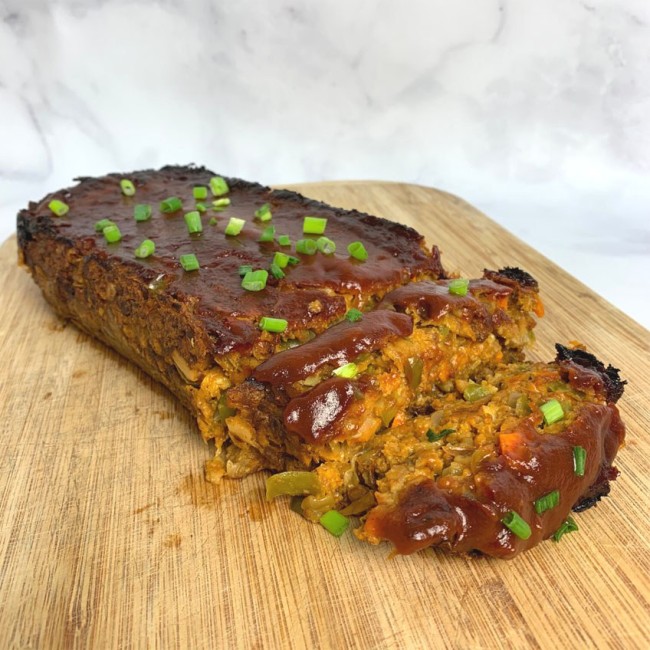 Did you know that meatloaf was originally called "Vitality Loaf"? This is not only an onolicious comfort food, but a great vessel for sneaking veggies onto your keiki's plate (We won't tell if you won't!)
Ingredients
Meatloaf
2 cups cooked red lentils
2 carrots, finely chopped
2 stalks of celery, finely chopped
1 large onion, finely chopped
3 cloves garlic, finely chopped
1/2 cup red bell pepper, finely chopped
1 1/2 cups mushrooms of choice, roughly chopped
1 package of Beyond Burger grounds, sauteed
2 tablespoons tomato paste
1 tablespoon BBQ sauce
1/2 cup oat flour
1/2 cup breadcrumbs
2 tablespoons flax meal
1 tablespoon dried parsley
1/2 teaspoon sea salt
1/2 teaspoon pepper
Glaze
1 cup ketchup
1/2 cup BBQ sauce
1 teaspoon balsamic vinegar
1 teaspoon maple syrup
Instructions
Preheat oven to 400º F.
Combine all glaze ingredients in a bowl and set aside.
Sautee carrots, celery, onion, garlic, bell pepper and mushrooms with a touch of olive oil or veggie broth until soft and fragrant.
Combine sauteed veggies in a big bowl with cooked lentils, Beyond Meat, oat flour, bread crumbs, parsely, flax meal, tomato paste, salt and pepper. Consistency should be sticky and holds together easily.
Place the loaf mixture into a parchment-lined loaf pan. Spoon or brush 1/2 of the glaze on to the top of the loaf and bake for 35-40 minutes.
Remove the loaf and pour the remaining glaze on top before serving!
Notes:
Try baking this in a muffin tray for the cutest individual servings ever!
You can make your own oat flour by blending whole oats in a blender or food processor
Feel free to substitude the Beyond Burger for any plant-based meat you like. We have tons of delicious options in our stores!