Juice Pulp Veggie Patties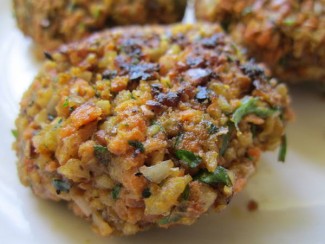 Juicing can be pricey so make the most of your money by using your leftover pulp and grains/beans to make patties for easy meals throughout the week.
Ingredients
Olive oil
½ cup sliced onions
½ cup sliced mushrooms
Salt and pepper, to taste
2-4 cups vegetable pulp
2 cups leftover brown rice, quinoa, or black beans
2-3 Tablespoons all-purpose seasoning like Spike®
Optional add-ins: olives, chopped peppers, diced garlic, roasted bell peppers, artichoke hearts, etc.
Instructions
Heat 1-2 Tablespoons olive oil in a large skillet over medium heat. Sauté onions and mushrooms until softened – about 5-6 minutes. Season with salt and pepper.
Place pulp, leftover grains/beans, sautéed vegetables and seasoning in a food processor and blend until it begins to form a ball. You can also do this by hand with a potato masher. If mixture is too dry, drizzle in olive oil until it sticks together. Add in your favorite chopped veggies and/or seasonings.
Shape mixture into small patties. You can either fry them in a skillet a few minutes on each side until golden brown or bake them at 375° for 20-30 minutes, flipping halfway.
These patties can also be frozen or refrigerated up to a week. Enjoy!