Japanese Style Curry Stew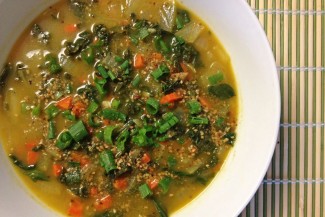 Utilizing vegetables cooked ahead of time or even leftover vegetables, this quick stew will be ready to eat in 30 minutes or less! Recipe adapted from Vegetarian Times.
Ingredients
3 Tablespoons butter, vegan butter, or extra virgin olive oil
¼ cup all-purpose flour or all-purpose gluten-free flour
2 Tablespoons curry powder
1 teaspoon cardamom
½ -1 teaspoon chili powder
1 Tablespoon tomato paste or ketchup
1 Tablespoon vegan Worcestershire sauce
4 cups vegetable broth
6 cups roasted chopped vegetables or leftover chopped vegetables like onions, carrots, or potatoes
1 apple, peeled and grated (about ½ cup)
1 cup peas
1 cup corn
Instructions
Melt butter in a small saucepan over medium heat. Slowly add the flour, curry powder, cardamom and chili powder while whisking constantly until you have a thick paste.
Whisk in tomato paste and Worcestershire sauce until fully incorporated.
Pour in vegetable broth and whisk together until smooth. Bring curry to a boil then turn heat down to medium.
Stir in roasted vegetables and grated apples. Heat until warmed through – about 5-7 minutes.
Add peas and corn and simmer for 5 more minutes. Serve with rice or noodles. Enjoy!