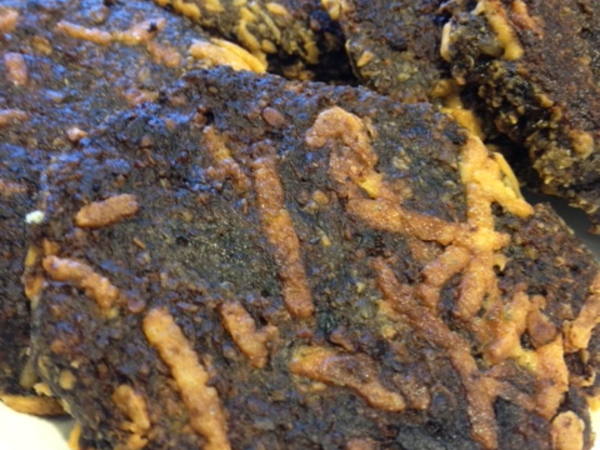 Homemade Cheddar Veggie Burgers
This recipe makes a big batch of delicious and hearty veggie burgers to serve at your next party. You can serve them all immediately or freeze the patties for future barbeques. Leftover cooked grains and beans are great to mix into these burgers.
Yield:
18 - 20 Veggie Burgers
Updated: Mon, 05/13/2019 - 9:05pm
Ingredients
3 cups water

1 cup chopped sweet potatoes

2 cups chopped fresh mushrooms

¾ cup quick oats

½ cup cooked quinoa

½ cup cooked brown rice

½ cup ground walnuts

½ cup vital wheat gluten flour

½ cup shredded carrots

¼ cup minced red onion

1 teaspoon each: sea salt, dried basil, dried thyme, pepper

1½ cups shredded cheese (dairy or vegan)

High-heat oil, like safflower or grape seed
Instructions
Preheat oven to 300º. Line a large baking sheet with parchment paper.

Bring water to boil in a medium saucepan. Add sweet potatoes and cook until soft. Drain and rinse in cool water.

Combine cooled sweet potatoes, mushrooms, oats, quinoa, brown rice, walnuts, gluten flour, carrots, onion and spices in a food processor. Pulse until just combined.

Transfer vegetable mixture to a large bowl and mix in cheese.

Shape a ¼ cup mixture with your hands to form 1 patty. Continue until all of mixture is used. Should yield about 18-20 patties.

Line patties on prepared baking sheet and bake for 40 minutes, flipping halfway through cooking. Burgers should be firm to the touch and slightly browned.

To serve immediately: Heat 1-2 Tablespoons oil in a large skillet over medium heat. Add baked burgers and cook until crispy on each side, about 10 minutes. Burgers can also be grilled.

To serve later: Allow baked burgers cool completely. Layer in an air-tight container, using parchment paper to separate patties. Freeze until ready to use. To re-heat follow Step 7.

Serve with your favorite buns and burger accompaniments. Enjoy!