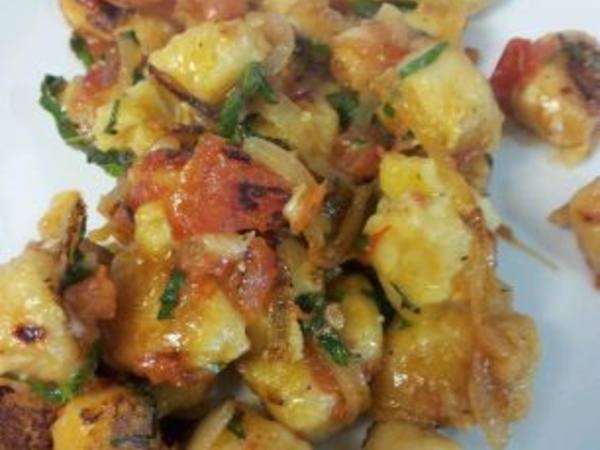 Gluten-Free Vegan Gnocchi
If you are gluten free and have missed the richness of this classic Italian meal, you can now enjoy this gourmet vegan version!
Updated: Fri, 05/04/2018 - 8:06am
Ingredients
Gnocchi
2 medium sized potatoes, peeled and chopped
2 Tablespoons olive oil
Salt and pepper to taste
1 cup rice flour + ¼ cup more for dusting
1 cup oat flour
½ cup nutritional yeast
1½ teaspoons guar gum
1 teaspoon garlic powder
Lemon- Caper- Tomato Sauce
¼ cup olive oil
1 medium onion, thinly sliced
1½ cups diced fresh tomatoes
3 garlic cloves, minced
Juice of 2 lemons
½ teaspoon red chili pepper flakes
½ cup capers
Salt and pepper to taste
¼ cup fresh sliced basil
Instructions
To prepare Gnocchi: Boil potatoes until soft and then drain.
Place potatoes in a large bowl and add olive oil and salt and pepper.
In a separate bowl, add rice flour, oat flour, nutritional yeast, guar gum, and garlic powder. Mix until well combined.
Combine dry ingredients into potato mixture and knead for 3-5 minutes until well combined
Separate dough into 4 equally sized pieces. Dust working area with extra rice flour. Use your hands to roll 1 piece of dough into a long rope about ½-inch around.
Cut 1-inch pieces of dough rope.
Gently but firmly roll each piece of dough down the tines of a the fork; try to not flatten gnocchi, but just add imprint of fork.
Continue process until all dough is used up.
Into a large pot of boiling water, place 8-10 gnocchi. When gnocchi rise and float to the top they are ready to take out. Use a slotted spoon to remove from water and place in a colander to drain. Continue until all pieces have been boiled.
To make the Lemon-Caper- Tomato Sauce: Heat olive oil in a large skillet on medium heat.
Add onions and tomatoes and cook for 15 minutes, stirring occasionally. Once onions have caramelized slightly, add garlic, lemon, red pepper flakes, and capers.
Add salt and pepper to taste and stir in fresh basil. Divide gnocchi between serving bowls, cover with sauce, and enjoy!