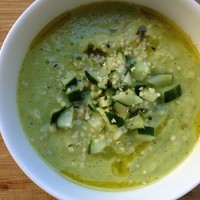 Broccoli and peas are both wonderful sources of protein, Vitamin A, Vitamin C, calcium and iron.

Ingredients
8 cups water
4 cups chopped broccoli
4 cups fresh or frozen peas
1-3 tablespoons spirulina, barley and/or wheat grass powder
¼ cup white or yellow miso
Instructions
Bring the water to a boil in a large stock pot
Add the broccoli and lower heat; cover and simmer for 3-5 minutes or until bright green in color.
Remove from heat; sitr in the peas.
Transfer to blender and puree along with the added green powders.
Pour back into pot over medium heat.
Whisk in miso until completely dissolved and soup has warmed through. Serve immediately and enjoy!