Herb Dip & Gluten-Free Crackers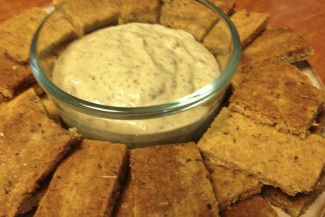 Although this crowd pleasing appetizer is easy to pick up from the store, it's just as easy to make yourself at home!
Ingredients
Herb Dip
1 cup soy yogurt
½ cup fresh chopped herbs of choice
¼ cup lemon juice
¼ cup chopped green onion
¼ cup chopped red bell pepper
1 clove garlic, chopped
1 Tablespoon extra virgin olive oil
Salt and pepper, to taste
2 Tablespoons cream cheese or vegan equivalent (optional)
Gluten-Free Crackers
2 Tablespoons ground flaxseeds + ½ cup
¼ cup water
1 cup almond flour or meal
1 cup corn flour
½ teaspoon salt
½ teaspoon black pepper
3 Tablespoons mixed dried herbs of choice
3 Tablespoons extra virgin olive oil + more if needed
Water, as needed
Tamari, for brushing
Instructions
Preheat oven to 350° and prepare a piece or parchment the same size as baking sheet. 
To prepare Herb Dip: Combine all ingredients in a food processor. 
Blend until smooth and creamy. Transfer to a small bowl, cover and refrigerate until ready to serve. 
To prepare Crackers: In a small bowl, whisk together 2 Tablespoons ground flax seeds with water. Let stand for 2-3 minutes to thicken into a flax seed slurry. 
In a large bowl, mix together flours, salt, pepper, dried herbs and ½ cup ground flax seeds. Add in olive oil and flax seed slurry. 
Stir together until mixture begins to clump together. Roll dough into a ball – if it's too dry, add a little more olive oil or water until dough is pliable and smooth. 
Place parchment onto clean countertop. Transfer dough to parchment paper. Using a rolling pin, roll out the dough to about ⅛" - ¼" thickness. 
Transfer to a baking sheet and cut into squares. 
Bake for 10 minutes then brush with tamari. Bake another 10-15 minutes or until the crackers begin to brown. Remove from oven and let cool. Serve with Herb Dip and enjoy!