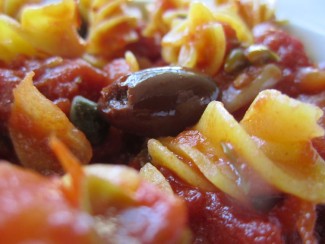 This spicy pasta sauce full of tomatoes, olives and capers is most delicious slow cooked, but can be made in twenty minutes if you are in a hurry. Serve over any kind of pasta.
Ingredients
Splash of olive or coconut oil
3-5 cloves of garlic, to taste
1-4 teaspoons of red chili flakes, to taste
2 Tablespoons of capers
½ cup of olives
1 large (28 oz) can of whole tomatoes
Salt and pepper to taste
Instructions
Sauté the garlic until soft.
Add chili flakes and sauté for another 30 seconds.
Add the capers, olives and some of their juice.
Add the tomatoes, stir and turn down the heat. Let it slow cook on low for an hour or so, stirring and adding more liquid if when necessary. Keep the tomatoes whole.
When you are ready to eat, squash the tomatoes, reduce the sauce down to the appropriate consistency and season to taste.
Serve over freshly cooked pasta. Mmmm! Enjoy!