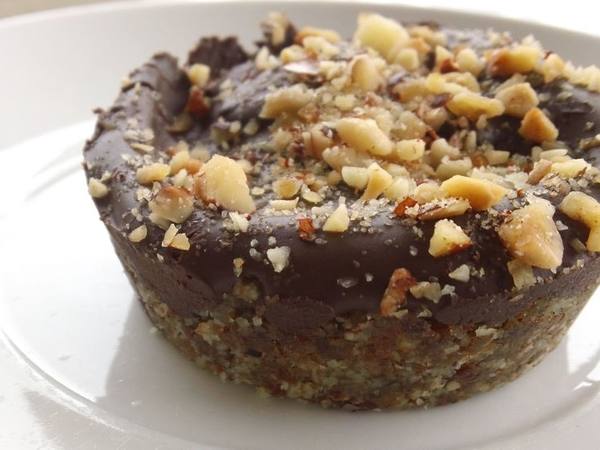 Raw Chocolate Hazelnut Cakes
A simple raw-inspired cake for any occasion! This one features hazelnut flour, caramelly dates, and a homemade chocolate ganache! This cake can also be made with almond flour.
Updated: Mon, 05/13/2019 - 8:51pm
Ingredients
1¼ cups Hazelnut flour (or 2 cups whole Hazelnuts)
8 Medjool dates, pitted and soaked 10 minutes
1-2 Tablespoons coconut oil
Pinch sea salt
½ teaspoon vanilla powder (or vanilla extract)
Hazelnut Ganache Frosting
1 (3.5-oz) bar dark chocolate
3 Tablespoons non-dairy milk
1-2 Tablespoons agave nectar
1 teaspoon hazelnut extract
Ground, toasted hazelnuts for garnish
Note: This can be made in muffin pans, tart pans, or in a square baking pan.
Instructions
If using whole hazelnuts, grind until fine in processor and then proceed with recipe; reserve some nuts for topping.
Line bottom of baking pan with parchment paper or line muffin trays with paper liners.
In a food processor, blend together hazelnut flour, dates, coconut oil, salt, and vanilla until combined. Divide evenly and press into pan of choice.
To make Hazelnut Ganache Frosting: Bring two inches of water to boil in a small saucepan. Break chocolate into small pieces and add to a glass bowl. Place bowl over top of saucepan and let water simmer until chocolate melts completely. Carefully remove bowl from saucepan.
Stir in milk, agave, and extract and whisk until very smooth– chocolate may clump slightly, but keep stirring until glossy. Spread evenly onto cake or use about 1 Tablespoon on small cakes. Garnish with reserved ground hazelnuts.
Place cakes into fridge for a few hours to let ganache set. Enjoy cold or at room temperature. Keep any leftovers in an airtight container. Enjoy!