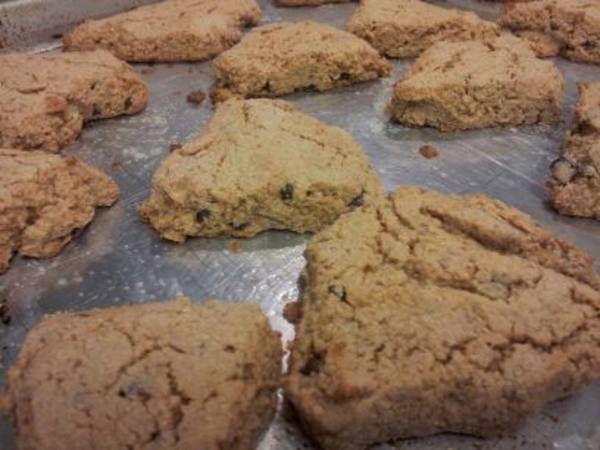 Gluten-Free Chocolate Chip & Cherry Scones
You will love these tasty scones that make think you are eating cookies!
Updated: Sat, 04/07/2018 - 7:21am
Ingredients
1½ cups almond flour
1 cup oat flour
1 teaspoon organic cornstarch
1 teaspoon baking powder
Pinch of salt
½ cup cold vegan butter
½ cup applesauce
1 Tablespoon ground flaxseeds
1 teaspoon vanilla extract
¼ cup water
2 Tablespoons black cherry jam
½ cup mini chocolate chips
Instructions
Preheat oven to 350º and line a baking sheet with parchment paper.
Place almond flour, oat flour, cornstarch, baking powder and salt in a large bowl and mix until well combined.
Grate vegan butter into flour mixture and use your hands to mix together until fine, crumbly mixture forms.
In a separate bowl mix together applesauce, ground flaxseeds, vanilla, and water.
Stir dry mixture into the wet. Mix in black cherry jam and chocolate chips.
Knead together until chocolate chips are evenly distributed.
Roll dough out into an oval shape about 1½ - 2 inches thick.
Cut oval in half, then cut triangles to form scones (like cutting a pie).
Place onto prepared baking sheet. Bake for 15 minutes, until just browned on top. Let cool slightly before serving. Serve warm and enjoy!