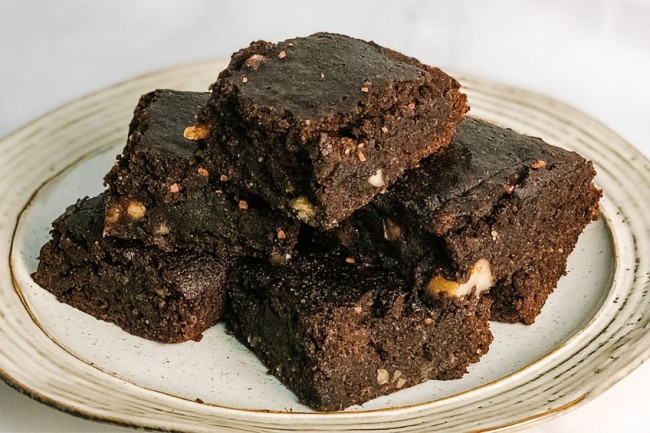 These allergy-friendly Carob Brownies are vegan, gluten-free, naturally sweetened, rich, fudgy, and studded with walnuts!
Ingredients
2/3 cup maple syrup
1/2 cup unsweetened applesauce
2 Tablespoons nut butter
1 Tablespoon flax meal
1 teaspoon vanilla extract
1/2 cup sorghum flour
1/4 cup carob powder
1/4 teaspoon salt
1/2 cup walnuts (optional)
salt for garnish (optional)
Instructions
Preheat oven to 350°F. Prepare an 8x8 inch square baking dish by lining with parchment paper so that there is overhang over the sides.
In a small mixing bowl, add the maple syrup, applesauce, nut butter, flax and vanilla and mix well.
Add the carob powder, sorghum flour, and salt to the wet mixture and mix together.
Add the walnuts and mix in. Transfer batter into baking dish and smooth the surface with a spatula. Bake for 30-35 minutes.
Remove from oven and let them cool for 15 minutes before slicing into 16 pieces.
Serve the brownies as is or sprinkle some salt on top and enjoy!