Raw Chocolate Almond Truffles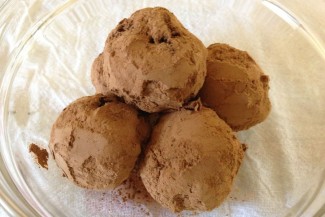 Raw Chocolate Almond Truffle recipe from Down to Earth Organic and Natural.
Ingredients
1½ cups raw almonds (whole or sliced)
8 pitted dates (about 1 cup), soaked for 20 minutes
1 teaspoon raw vanilla powder
2-3 Tablespoons raw cacao powder + more to garnish
1 Tablespoon coconut oil + more if needed
Instructions
In a food processor, pulse almonds until crumbly. Set aside ¼ cup for garnish.
Add remaining ingredients into the processor and process until combined. The mixture should be sticky and easy to shape. If it's too dry, add a little water and process until mixture holds itself together. Transfer mixture into a large bowl.
Combine 2 Tablespoons raw cacao powder and reserved ground almonds in a small bowl.
Roll mixture into small ping-pong sized balls with your hands. Then roll balls into cacao/almond mixture. Serve immediately or let cool in refrigerator. Enjoy!