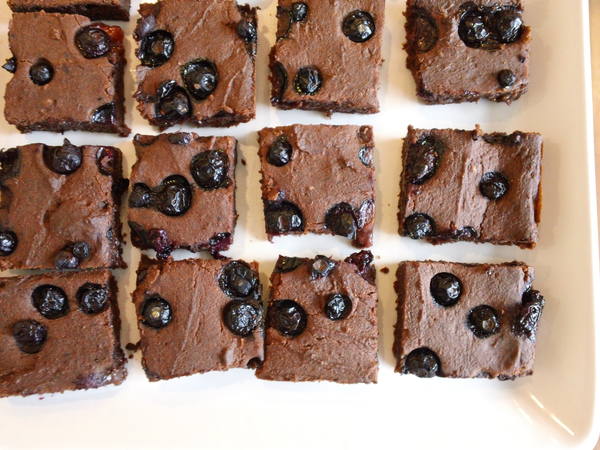 Chocolate Banana Berry Mochi
Mochi is a sweet rice flour dessert that makes for a great hand-held treat for all your beach days. It's gluten-free and vegan too!
Yield:
20-24 pieces Mochi
Updated: Wed, 02/21/2018 - 10:44pm
Ingredients
¼ cup + 1 Tablespoon vegan margarine, room temperature
1 cup coconut milk
¾ cup mashed bananas
½ cup sugar
½ cup cocoa powder
¼ cup mixed berries (thawed if using frozen)
¼ cup coconut oil
2 teaspoons vanilla extract
2 cups mochiko flour (mochi rice flour)
¼ cup potato starch
2 teaspoons baking powder
¼ teaspoon sea salt
1 cup blueberries, raspberries, or chopped fresh strawberries
Instructions
Preheat oven to 350º, and grease a 9 x 13 pan with one Tablespoon vegan margarine. Set aside.
In a food processor, blend together ¼ cup vegan margarine, coconut milk, bananas, sugar, cocoa powder, berries, coconut oil, and vanilla extract. Process until very smooth and creamy. Turn out into a large mixing bowl.
In a large bowl mix mochiko flour, potato starch, baking powder, and salt. Add dry ingredients to wet ingredients and stir vigorously to combine.
Pour into prepared baking pan and smooth top evenly. Lightly press fresh fruit into top.
Bake for 60-70 minutes, depending on how crusty you want your mochi. Let cool completely in pan, then cut into desired number of pieces. Mochi is best enjoyed on the same day, but can be packed in an airtight container and frozen.