Kimchi Cauliflower Fried Rice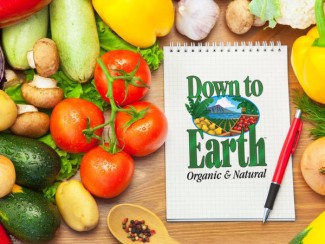 Kimchi Cauliflower Fried Rice recipe from Down to Earth Organic and Natural.
Ingredients
1 medium head of cauliflower
1-2 Tablespoons gochujang (Korean red pepper paste)
2 Tablespoons soy sauce
2 cups kimchi, roughly chopped
1 Tablespoon high heat oil like coconut or safflower
5 garlic cloves, minced
1/2 cup peas
1/2 cup shredded carrots
1/2 cup corn kernals
Toasted sesame oil, for drizzling
½ cup sliced scallions
¼ cup toasted sesame seeds
Instructions
To make cauliflower rice, chop cauliflower into florets. Pulse florets in the bowl of a food processor until it resembles rice. This will take about 2 minutes, you may have to do it in batches. You can also grate the cauliflower using a box grater. Scoop portions of cauliflower rice into a kitchen or paper towel and squeeze to get rid of excess moisture. Set aside.
In a small bowl whisk together gochujang, water, and soy sauce, set aside.
Squeeze out excess liquid from the kim chi and set aside.
In a large skillet, heat oil over medium heat. Add garlic and saute for 1 minute, add kimchi and continue sauteeing for 3 minutes. Add cauliflower rice and soy sauce mixture. Saute for 7-10 minutes, until cauliflower is tender, but not mushy. Add in Remove from heat, top with sesame oil, scallions, and sesame seeds. Serve and enjoy!