Gluten Free Herbed Croutons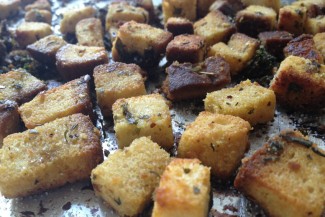 Crunchy and delicious – serve with your favorite salad or even as a snack
Ingredients
1 loaf gluten free bread, cubed
Dressing
½ cup olive oil
½ cup red wine vinegar
¼ cup fresh basil
¼ cup fresh parsley
1 teaspoon thyme
1 teaspoon rosemary
1 teaspoon dried oregano
¼ cup nutritional yeast
¼ teaspoon crushed red pepper
3 crushed garlic cloves
Salt and pepper to taste
Instructions
Preheat oven to 375º. Oil a baking sheet and place bread cubes on it in a pile.
In a medium bowl, whisk together Dressing ingredients.
Drizzle Dressing over bread cubes. Using your hands, gently toss mixture distribute dressing. Arrange cubes evenly on baking sheet.
Place in oven for 10 minutes. Remove from oven and toss. Bake for another 10 minutes and toss again. Then bake for another 5 minutes and stir until croutons are nicely browned.
Remove from oven and let cool. Serve on your favorite salad and enjoy!