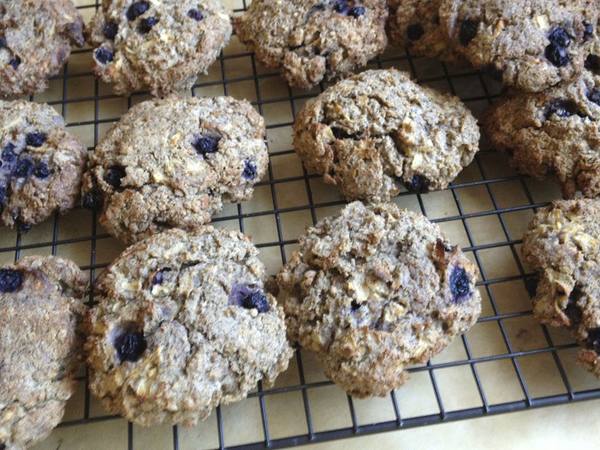 Whole Wheat Blueberry Scones
Mix whole grain goodness with healthier options for a sweet treat to fuel your day.
Updated: Mon, 05/13/2019 - 9:05pm
Ingredients
1 teaspoon apple cider vinegar
½ cup almond milk + 2 Tablespoons
1¼ cups whole wheat pastry flour
⅓ cup wheat germ
⅓ cup quick oats
1½ teaspoons baking powder
½ teaspoon baking soda
¾ teaspoon sea salt
¼ cup agave nectar
3 Tablespoons coconut oil
1 teaspoon vanilla extract
Zest of 1-2 lemons
¾ cup blueberries
Instructions
Preheat oven to 400°. Line a baking sheet with parchment paper.
Combine apple cider vinegar and ½ cup almond milk in a liquid measuring cup. Set aside.
In a mixing bowl, combine flour, wheat germ, oats, baking powder, baking soda and salt.
In another mixing bowl, whisk together agave nectar, coconut oil, vanilla extract and vinegar/milk mixture. Stir in lemon zest.
Pour wet ingredients into flour mixture. Mix well but don't over-mix. Dough should be thick and sticky.
Gently fold in blueberries.
Using a ⅓ measuring cup, scoop out dough onto baking sheet about 2" apart. With slightly wet hands, flatten scones gently.
Bake in oven for 5 minutes. Remove from oven and brush with 2 Tablespoons almond milk. Omit this step if you want softer scones. Rotate pan and return to oven for an additional 6-8 minutes or until edges are golden and tops are beginning to brown.
Remove from oven and let cool for 5 minutes before transferring to a wire rack to cool completely. Serve immediately or store in an air-tight container in the refrigerator for up to 5 days, or frozen for 2 weeks. Enjoy!