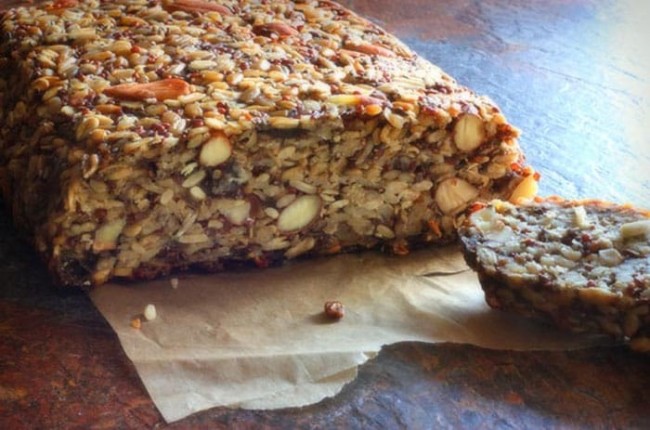 An extremely delicious, vegan, grain-free and gluten-free bread. Best eaten toasted!
Ingredients
1 cup raw sunflower seed
½ cup raw almonds or hazelnuts
¼ cup uncooked quinoa
¼ cup flax seeds
2 Tablespoons chia seeds
1 Tablespoon hemp seeds
1+½ cup rolled oats (or gluten-free oats)
Big pinch of salt
4 Tablespoons psyllium seed husks (or 3 Tablespoons if using husk powder)
1 big pinch stevia or 1 Tablespoon honey
1 Tablespoons coconut oil
1+¼ cups hot water
For a Savory Loaf - 1 Tablespoon rosemary, minced
For a Sweet Loaf  - 1 Tablespoon cocoa powder, 2 teaspoons cinnamon, 1/4 teaspoon stevia, to taste
Instructions
Place the sunflower seeds, almonds, quinoa, flaxseed, chia seeds and hemp in a large bowl. Cover with water by 2 inches and let it sit overnight.
The next day, drain and rinse the seeds and nuts in a large fine meshed strainer. Return the nuts and seeds to the bowl, stir in the oats, salt, stevia and the sweet or savory additions. Set aside.
In a medium bowl, combine the psyllium, coconut oil and water. Mix well until thick.
Scrape the psyllium mixture into the seed and nut mixture and combine well. Mixing by hand is very effective, though a little messy.
Oil a loaf pan and line with parchment paper, leaving handles hanging over two sides. Spread the mixture in the loaf pan and smooth out the top. Let it rest for two hours.
Preheat the oven to 350 F. Place the rack in the middle position.
Bake for 30-40 minutes.
Gently lift the loaf from the pan using the parchment handles. Placing a cooling rack on the top of the loaf, invert it onto the cooling rack and return it to the oven. Bake for 50-60 minutes, until the seeds are toasted brown and it sounds hollow when tapped. If the nuts are browned before the loaf sounds hollow, remove it from the oven. The loaf will set further when cooled.
Let it cool completely before slicing. Serve! Especially delicious toasted.