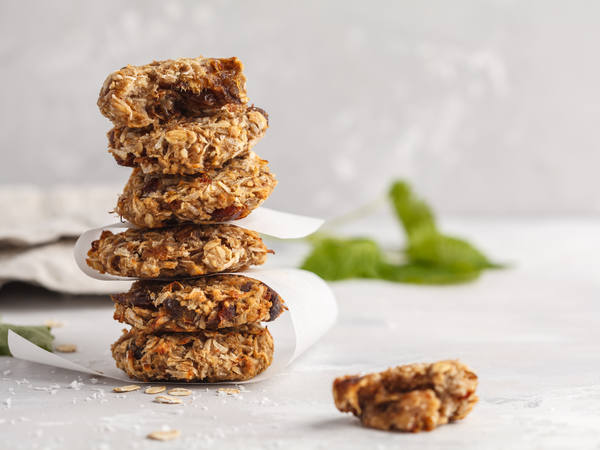 Gluten-Free Banana Date Cakes
These little cakes are virtuous enough for breakfast or a simple afternoon treat. Make a double batch and freeze for later!
Updated: Mon, 05/13/2019 - 8:51pm
Ingredients
1½ cups mashed, very ripe bananas
½ cup natural almond butter
¼ cup coconut milk (or other non-dairy milk)
¼ cup coconut oil
2 teaspoons vanilla extract
2 cups rolled oats
⅔ cup almond meal (almond flour)
⅓ cup shredded coconut
⅓ cup hemp seeds
1 teaspoon baking powder
¼ teaspoon sea salt
¾ - 1 cup chopped dates
Instructions
Preheat oven to 350º and line two cookie sheets with parchment paper.
In a large bowl combine bananas, almond butter, coconut milk, coconut oil and vanilla extract. Whisk until smooth, and then set aside.
In another bowl whisk together oats, almond meal, coconut, hempseeds, baking powder and salt.
Add dry ingredients to wet ingredients and stir until combined. Fold in the chopped dates.
Use a ¼ cup measure to scoop out batter. Press into small, round cakes and lay gently onto baking sheet. Bake for 22-25 minutes, or until tops and edges are golden. Cool on racks. Keeps for a few days in the fridge; leftovers can also be frozen.