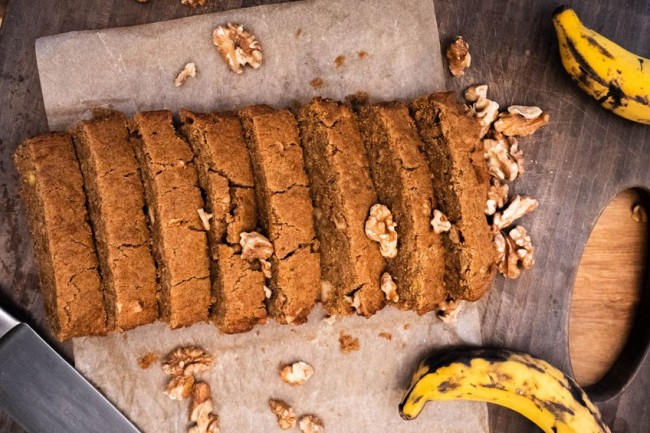 This vegan banana bread is moist and perfectly sweet. Just 15 minutes of preparation! Easy to make gluten-free.
Ingredients
½ cup chopped walnuts
2 cups white sorghum flour (or regular whole wheat flour)
½ teaspoon baking powder
½ teaspoon salt
3 medium ripe bananas
1 cup coconut sugar
½ cup coconut oil, melted
1 teaspoon vanilla extract
1 Tablespoon egg replacer
¼ cup unsweetened soy milk
Instructions
Start by preheating the oven to 350F, oiling the loaf pan or lining with parchment paper, and chopping the walnuts.
In a medium bowl, sift together flour, baking powder, and salt, and set aside.
In a separate bowl, mash the bananas. Make sure not to leave any big chunks.
Add the sugar, oil, and vanilla to the bananas and mix until evenly combined.
Combine the egg replacer and soy milk and add to the wet mixture. Once the egg mixture is incorporated, gently fold in the dry ingredients just enough for everything to come together.
Gently fold in walnuts.
Pour the batter into the prepared loaf pan.
Bake for 45 minutes. Test the bread with a toothpick or fork – it will come out clean when the bread is ready. If the bread is still too moist, bake at 5 minute intervals until done.