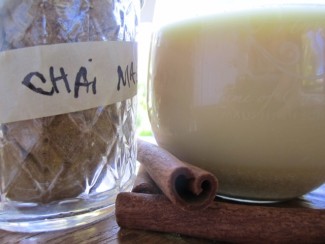 If you haven't got chai spice blend handy, but want a quick cup of chai, here's a delicious recipe that you can make in minutes.
Ingredients
4 cups water
4 cardomom pods
2 whole cloves
1/2 teaspoon of fennel seeds
1 (3") cinnamon stick
1" ginger root
2 tea bags – black, green or rooibos are common
1/2 cup of almond, rice, soy or dairy milk
2 pinches of stevia or other sweetener
Instructions
Bring the water to boil in a pot.
In a mortar and pestle lightly grind the cardomom pods and cloves.
Add this to the boiling water along with the fennel, cinnamon, ginger root and tea.
Boil for 2 minutes, until the water darkens.
Discard the ginger root and tea.
Add the milk and bring to a boil.
Add the sweetener, adjusting to taste. Serve hot! Enjoy!