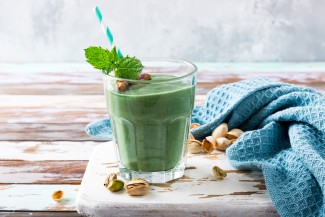 This creamy and sweet drink is an easy way to introduce those who are new to super-nutritious kale.

Ingredients
1 cup chopped kale
2 cups chopped ripe banana
½ cup raw pistachio nuts
¼ cup chopped dates
½ teaspoon minced fresh ginger
1 teaspoon vanilla extract
1 cup almond milk
Instructions
Place all ingredients in a blender and blend on high until thoroughly mixed.
Use frozen bananas and/or 5-6 ice cubes for an iced version. Enjoy!