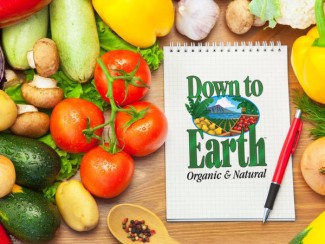 Vegan Cornbread recipe from Down to Earth Organic and Natural.
Ingredients
2 cups soy milk
2 teaspoons apple cider vinegar
2 cups cornmeal
1 cup unbleached all-purpose flour
2 teaspoons baking powder
½ teaspoon salt
⅓ cup canola oil
3 Tablespoons maple syrup
Instructions
Preheat oven to 350°. Oil and flour a baking pan.
In a medium bowl, whisk together soy milk and vinegar. Set aside.
In a large bowl sift together the cornmeal, flour, baking powder and salt.
Add the oil and maple syrup to the soy milk mixture. Whisk until foamy and bubbly.
Pour the wet mixture into the dry and mix together using a wooden spoon. Pour batter into prepared baking pan and bake 30-35 minutes or until a toothpick inserted into the center comes out clean. Slice into squares and serve warm. Enjoy!