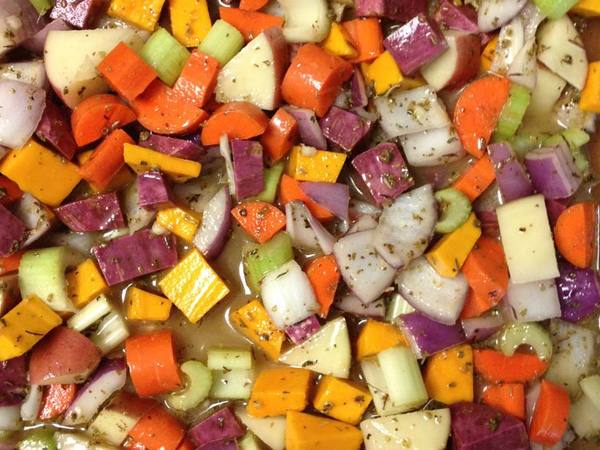 Roasted Vegetables w/ Chickpeas
Bold spices make for an addicting dish full of nutritional goodness. To enjoy this yummy dish all week long, make it ahead of time! Cook as instructed below, let cool to room temperature, transfer to a large container, and cover with a lid or foil. Reheat in a 450° oven for 10-12 minutes to warm. Can be refrigerated for up to a week.
Updated: Tue, 04/03/2018 - 10:01pm
Ingredients
4 cups diced eggplant
2 cups diced squash such as kabocha squash or butternut squash
1 medium onion, chopped
3-4 carrots, cut into half-moons
2 cups cooked chickpeas or 1 (15-ounce) can
½ cup extra virgin olive oil
¾ teaspoon cumin
¾ teaspoon coriander
¼ teaspoon cayenne + more if desired
Salt and pepper, to taste
Instructions
Preheat oven to 450°. Line a large baking sheet with parchment paper.
Place eggplant, squash, onion, carrots, and chickpeas in a large bowl. Add oil and seasonings. Salt and pepper generously. Toss everything together until well-coated – rub in oil and seasonings into vegetables. (If you don't have a large enough bowl for all the vegetables, divide them into 2 large bowls or work in batches.)
Roast for 20 minutes, turning vegetables over with a rubber spatula every 5-7 minutes.
Increase heat to 500° and roast for another 10 minutes or until vegetables are tender. Remove from heat and let cool. Serve and enjoy!