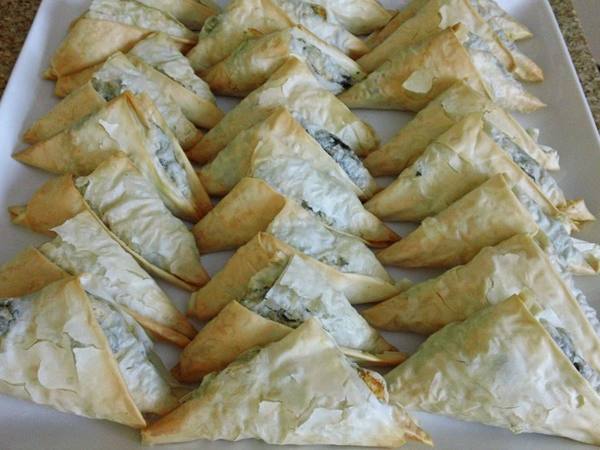 Spanokopita (Spinach & Feta Pie)
Don't let phyllo dough scare you - it takes patience but is actually quite easy. Try these handheld treats for quick lunches and snacks.
Yield:
10-20, 4-inch triangles
Updated: Mon, 05/13/2019 - 9:13pm
Ingredients
Tofu Feta
1 (12-14 oz) block extra firm tofu
2 Tablespoons white miso
2 Tablespoons tahini
2 Tablespoons lemon juice
½ teaspoon fine sea salt
Spanokopita
1 Tablespoon olive oil + ½ cup more
½ cup thinly sliced red onion
3-4 cloves garlic, smashed
¼ cup chopped pine nuts
½ cup chopped, fresh dill
½ cup chopped, fresh parsley
2 (10-oz) packages frozen spinach, thawed
½ teaspoon sea salt
half (1-lb) package phyllo dough, thawed according to directions
Instructions
To make the Tofu Feta: Drain tofu. If using water-packed tofu, you must press out excess liquid. Place tofu in colander, cover with a plate, and let drain for one hour.
Crumble tofu in small pieces. Add to a large bowl.
In a small bowl whisk together miso, tahini, lemon juice, and salt until smooth. Pour onto tofu, stir to coat tofu, and set aside.
Preheat oven to 350º and line two baking sheets with parchment paper.
Drain spinach packages in a colander, squeezing out excess water if necessary. Chop spinach if needed.
In a large stockpot, heat 1 Tablespoon olive oil. Add onions and garlic, and cook until just browned, about 10 minutes. Add pine nuts and cook five minutes more to brown the nuts. Add dill, parsley, spinach, and salt, and cook for 10 more minutes over low heat, stirring occasionally. Remove from heat and add to tofu.
Lay phyllo dough onto a smooth, dry surface. Cut dough into 5-inch strips. Cover all dough with a damp towel. Pour ½ cup olive oil into a small dish and set aside.
Remove two layers from each strip. Brush dough strip generously with olive oil, then add 2-3 Tablespoons spinach mixture onto one end. Fold over itself into into a triangle shape (like folding a flag), tucking in edges and sealing with olive oil. Place on baking sheet. Continue with remaining filling and dough. Brush each piece with more olive oil. Bake for 25 minutes. Remove from oven let cool.
Enjoy while still warm and crispy, or let cool and soften slightly. Makes great leftovers, though they will be soft. Simply toast or bake for a crisper texture.