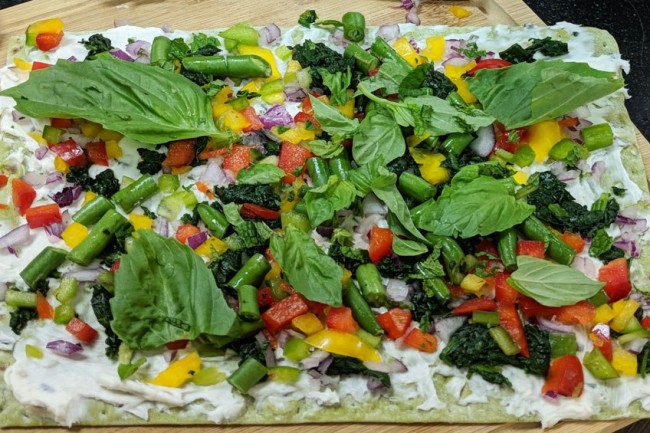 Veggie pinwheels are super easy to make! Customize your pinwheels by adding your favorite vegetables.
Ingredients
5 lavash wraps
1 8-ounce package vegan cream cheese
2 cups frozen spinach, thawed
1 red onion, diced
1 red bell pepper, diced
1 yellow bell pepper, diced
1 cup green beans, diced
1 cup fresh basil
¼ cup fresh mint, chopped
Instructions
Lay a lavash wrap on a flat surface. Use a spatula to spread about 3 Tablespoons of vegan cream cheese across the wrap. Make sure the cream cheese is spread all the way to the edges.
Next, sprinkle a handful (around 3 Tablespoons) of thawed spinach, red onion, bell peppers, and green beans evenly on top of the cream cheese.
Top veggies with 4-5 basil leaves and a pinch of fresh mint.
Starting at a short edge, roll lavash into a log, making it as tight as possible without tearing.
Cut lavash wrap into 6-8 pieces. Repeat steps until all lavash wraps have been used.
Serve chilled and enjoy!