Miso Butternut Squash Mac & Cheese Bites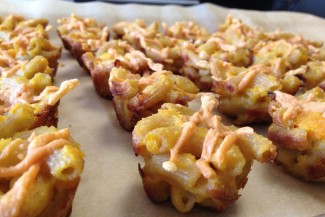 As seen on KHON's Living 808!
Yield
24 Large Pieces or 48 Small Pieces
Ingredients
2 cups cubed butternut squash
8-ounce macaroni pasta
¼ cup butter or vegan butter
¼ cup all-purpose flour
1 cup unsweetened plain non-dairy milk
½ cup nutritional yeast + more to taste
Salt and pepper, to taste
Shredded vegan mozzarella or cheddar cheese (optional)
Fresh thyme or thinly sliced green onions (optional)
Instructions
Steam cubed butternut squash until tender. Transfer to a large bowl and smash squash with a potato masher until soft.
Bring a large pot of water to a boil. Cook macaroni according to package directions.
Preheat oven to 425⁰. Spray either (2) mini cupcake pans or (2) regular cupcake pans with cooking spray. If you only have one, you may need to do it in 2 batches.
In another large pot, melt butter and miso over medium low heat. Whisk until combined.
Whisk in flour and whisk continuously for 1-2 minutes. Slowly add milk and whisk to remove lumps. Cook, stirring occasionally, until the mixture is quite thick and the lumps are gone. This can take anywhere from 2-5 minutes.
Stir in nutritional yeast, mashed squash, and macaroni. Season with salt and pepper.
Scoop butternut mixture evenly into prepared cupcake pans. Pack each one down gently – ensure that the pasta is sticking inside. Sprinkle more nutritional yeast or shredded cheese on top. Bake for 15-20 minutes until golden. Let cool for 10 minutes - use a butter knife to carefully loosen and pop out each bite. Transfer mac and cheese bites to a serving platter and serve immediately. Garnish with extra cheese and thyme. Enjoy!