Kim Chi "Spam" Fried Rice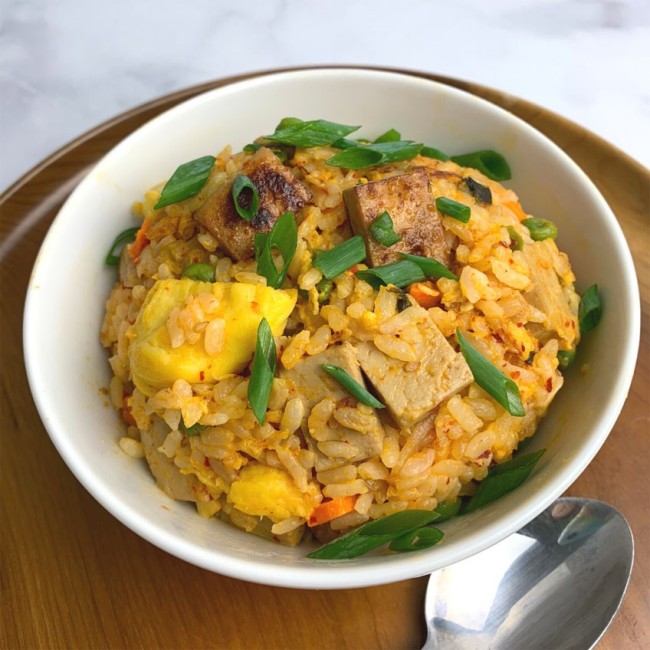 Fried rice is the perfect way to use up your old rice and clean out your fridge! This dish is local comfort food, perfect for breakfast! If you don't like kimchi, just skip it for a more classic fried rice.
Ingredients
Tofu Spam
1/2 - 1 block of extra firm, Non GMO tofu, drained or pressed
Marinade

2 tablespoon maple syrup
1 tablespoon liquid aminos
1 tablespoon nutritional yeast
2 teaspoons smoked paprika
1 teaspoon sesame oil
1 teaspoon garlic powder
1 teaspoon onion powder
1/2 teaspoon sea salt
1/2 teaspoon black pepper
Plant-Based Egg
1-2 plant-based eggs like Just Egg, Follow Your Heart Egg, Be Leaf Egg or tofu scrambled eggs)
Fried Rice
2 teaspoons sesame oil + more for fried rice
2-4 tofu "spam" slices, diced 
1/2 large onion, diced
3 cloves garlic, minced
2 tablespoons green onions + extra for garnish
3 cups cooled cooked rice, preferably refrigerated rice
1 cup kimchi of choice, diced + 1 tablespoon reserved kimchi liquid
1/3 cup peas
1/2 cup carrots, diced
Optional: sesame seeds for garnish
Instructions
Prepare tofu "spam", plant-based egg, and rice ahead of time. The full tofu "spam" recipe makes 4 servings. We recommend using only about 1/2 for this fried rice recipe. You can use more if desired. 
Combine the tofu "spam" marinade ingredients in a container with a lid.
Cut the tofu into rectangles, place them into the marinade and cover. Let them marinade for as long as possible, but at least an hour. 
Heat a pan over medium heat. Add a touch of oil to prevent sticking. Saute the marinated tofu pieces until they are browned and cooked through.
Cook your plant-based egg of choice according to package instructions. You can also try our tofu scramble from this recipe. Cut the egg into small pieces and set aside for later.
Add oil to a pan over medium heat. Once hot, add onions, garlic and green onions. Stir fry for 1-2 minutes.
Add rice to the pan. Break it up and incorporate with kimchi. Once combined, mix in kimchi (with liquid) and a drizzle of oil.
Add the plant based egg and spam, peas and carrots to the pan and mix to incorporate.
Once all ingredients are heated, turn off the heat and let stand to form a slight crust on the bottom.
Garnish with green onions and sesame seeds, then enjoy!